*Special Note: This is a close to the series of recent posts on natural law prompted by a set of luncheons at Loyola University Maryland. The final luncheon was guided by Scott Roninger of Loyola Marymount University, Los Angeles. What follows is an outline of his presentation with additions made by myself to explore fashion and natural law.
The Emperor Caligula in need of money passed a law of heavy fines for various infractions. Citizens were royally lightened of a good deal of money. Imperial success was guaranteed for the law passed kept what counted as an infraction a secret. Unsurprisingly, protests ensued with the people arguing that law is not binding unless promulgated for all to know. Bowing to pressure, Caligula posted the law high up above the forum where none could read it. This sorry excuse for promulgation was meet with renewed popular anger.
This is an example of what Aristotle calls natural justice. The people intuited that the law was unjust: without instruction, people clearly saw that promulgation is essential to rule of law.
Robert Graves's Goodbye to All That, his 1929 sardonic rejection of the mores that culminated in WW1, provides another example of natural justice. Put on sniper duty, Graves had a German in his sights. The only difficulty: the man was behind the lines in a bathtub bathing. Graves declined to take the shot.
Pope Francis is well-known for his demand that we take environmental stewardship more seriously. Less well-known is his significant departure from contemporary environmental ethics. Many environmentalists, though not all, tend to view nature as a field for the laying down of the moral law (this is an application of Kant's moral formalism: at some point, I'll do a post where I'll argue this misunderstands Kant's thought). By contrast, in a rather lovely way, I think, Francis argues that nature is a teacher.
What does nature teach? There is order and an orderer: art and an Artist.
Mazda are well-known for concept car development and often taking nature as a teacher (http://wardsauto.com/news-analysis/mazda-designers-draw-inspiration-nature-fashion). They have modeled cars after the wind or, as with their 2006 Nagare, after sand dunes: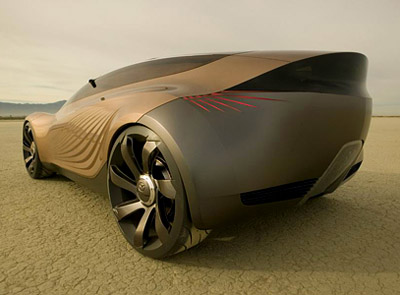 Natural law is the claim that there is an ontological priority of ends over purposes.
An end is a nature resting in its identity: look out the window at a tree to see the idea (for Aquinas's account of our end and subordinate ends see my post on corsets and natural law: http://www.ethicsoffashion.com/corsets-natural-law/).
A purpose is how we motor to our end, and these we can set up in opposition to our end (evil) or in symmetry (good).
Aquinas argues that we are imitative creatures and so we learn about ends and purposes from mimicking the order we see in nature. In the most profound sense, we craft ourselves and our arts (technology) by imitating the divine Artist who orders nature. The great Thomistic commentator, the Jesuit Erich Przywara, thinks God as Artist Thomas's favoured image for God.